DAVIDA NEMEROFF & SAMARA GOLDEN
"Modern Painters"
September 9th - September 30th, 2012

Various Small Fires is pleased to announce a special collaboration between Davida Nemeroff and Samara Golden. The original title of the show, "Midnight Cowboy," was changed to "Modern Painters" in reaction to the exhibition's preview in the September issue of Modern Painters Magazine.

EXHIBITION PRESS
Important: Should Read In Order

1) Alex Allenchy for Modern Painters, September 2012 (see below)
2) Paul Soto for Art in America, September 2012 (click here)
3) Scott Indrisek, "...In Which The Magazine Inspires an Exhibition," Artinfo.com, October 1, 2012 (click here)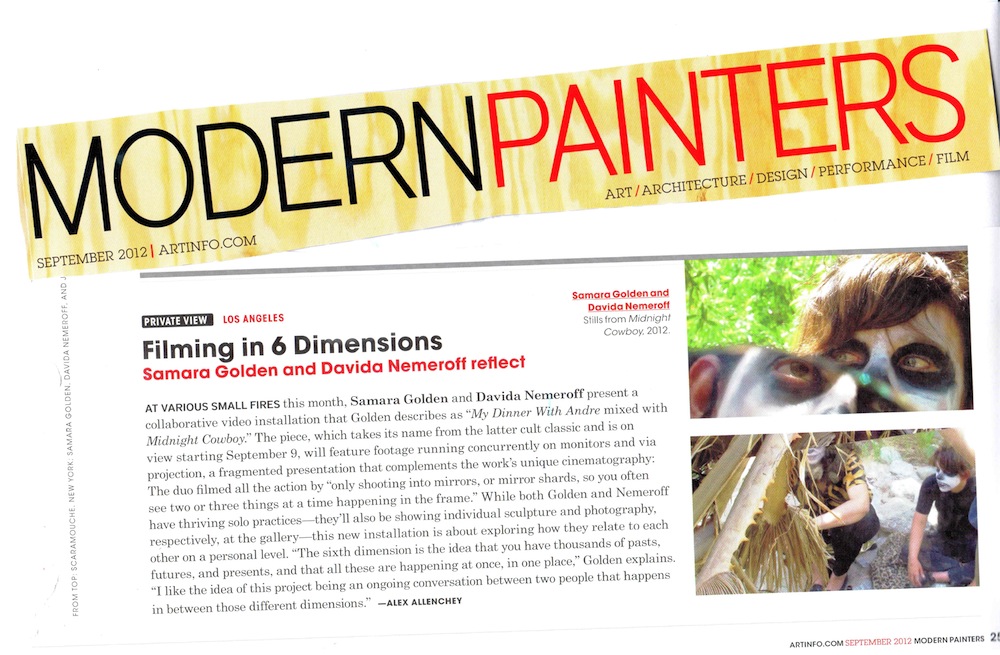 FOR IMMEDIATE RELEASE
"Modern Painters" forms itself by talking about itself.
Who does she think she is?
Utilizing the aesthetics of a hotel lobby, the collaborative installation sets the stage for an imaginary press conference, where hard-boiled eggs and coffee will be served.
Ghosts and goblins ask the questions while a congregation of cameras and microphones play witness.
Through an almanac of open-ended on-camera conversations, the artists Nemeroff and Golden explore their relationship to each other and the concept of the sixth dimension. Surrounded by dysfunctional portraiture and influenced by a rolodex of misunderstandings, the artists ruminate on women of power, their diets, and their kept animals. The camera is the connective tissue between the artists' individual practices.
The exhibition stems from the artists' original video collaboration "Howardina D'Ville Visits Samara Golden's Studio" (2009) in which the roles of the Artist (Golden) and Curator (Nemeroff) are clearly acted out according to the unwritten rules of art world power structures. In these works, the real life relationship of Nemeroff and Golden as dealer and artist becomes the medium of the message.

Davida Nemeroff (b. 1981 Montréal, Canada) received her MFA from Columbia University in 2009 and her BFA from The School of Image Arts at Ryerson University in 2004. Recent solo exhibitions include Gallery TPW in Toronto and Workspace in Los Angeles. Her work has been included in exhibitions at ACME, Los Angeles; AWLA, Los Angeles; Young Art, Los Angeles; and Invisible Exports, New York. Nemeroff's work has been written about in Border Crossing Magazine, LA Weekly, and Notes on Looking. Nemeroff founded and co-runs Night Gallery in LA with Mieke Marple.
Samara Golden (b. 1973 Ann Arbor, Michigan) received a MFA from Columbia University, New York in 2009. Golden has exhibited her work in the US and abroad including Solo projects at Frieze, New York; Night Gallery, Los Angeles; WorkSpace, Los Angeles; and Ferenbalm-Gurbrü Station, Karlsruhe, Germany. Her work has been included in exhibitions at Sculpture Center, New York; ACME, Los Angeles; CANADA, New York; Derek Eller, New York; Galerie Michael Janssen, Berlin; Renwick, New York; and LA><ART, Los Angeles. Golden's work has been written about in Flash Art, Rhizome, New York Magazine, Modern Painters, LA Weekly, Art Forum, and The New York Times. Golden is represented by Night Gallery LA.